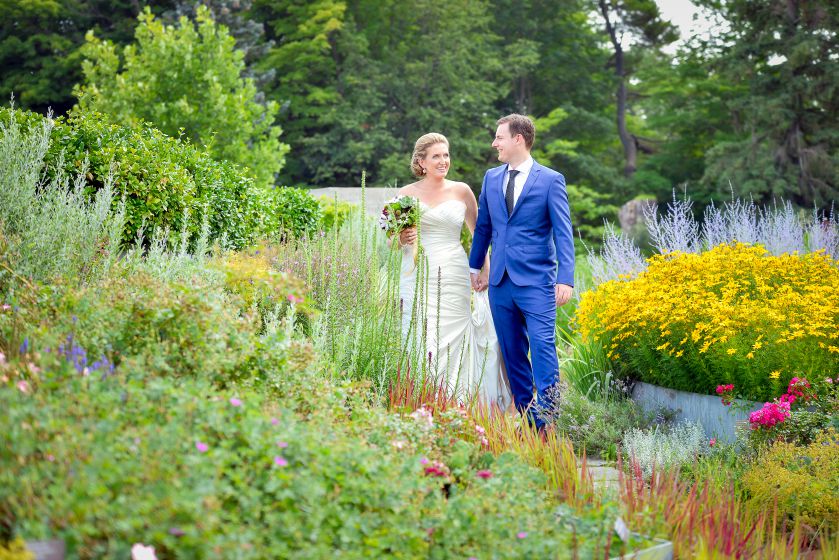 It was a scorching hot Saturday in July when Amy and Brett tied the knot at the Toronto Botanical Garden. The perfect venue for these two with their lavish gardens and simplistic rooms which Amy's vision turned into an elegant display having pulled the Garden theme into the centerpieces.
With the sun shining down, guests were greeted with a refreshment station of freshly squeezed lemonade and cucumber-mint water anxiously awaiting the first glimpse of the stunning bride. Amy and Brett exchanged vows outside on the garden terrace with family and friends eager to celebrate in their love.
After serving cocktails and gourmet canapes, guests were ushered into the reception for dinner. Long rows of harvest tables classically decorated with crisp white linens, gold Chaivari chairs and an assortment of small, large, tall and short flower arrangements going down the center of the tables. Amy, being a schoolteacher, is a skilled master at the DYI.  She purchased the vases from Ikea and spray painted them white to create the perfectly playful and rustic chic feel for the evening.

A fresh and clean salad was served as the first course, perfect for the summer heat!
Guests had the option to choose from four mains (Tuscan supreme of chicken, pan-seared salmon, red wine braised short ribs and vegetarian torte) all served with rainbow carrots, haircot verts and scallion mash.

And finishing off the dinner with a seasonal berry mille-feuille with mint garnish for dessert.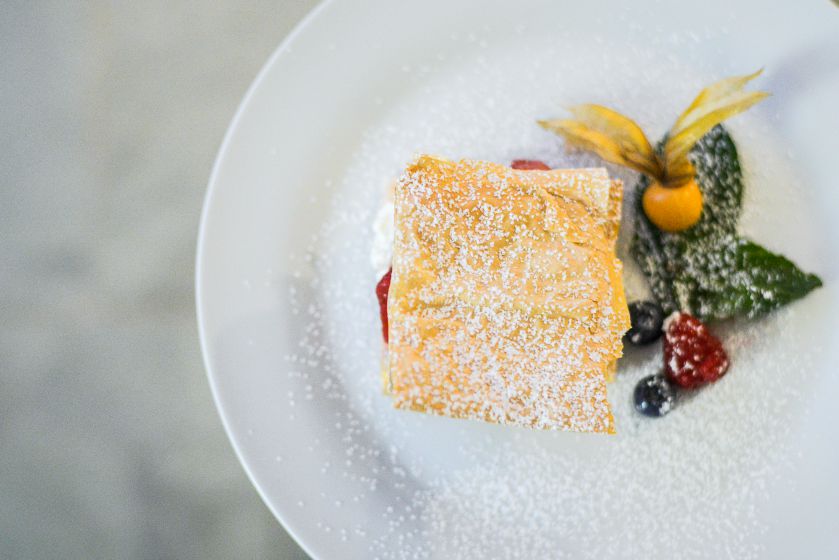 It was a love filled event and we were so fortunate to be a part of such a special day. We wish Amy and Brett nothing but love, joy and success in the future together. Congrats you two!!
Photos provide by alixandragouldphotography.com