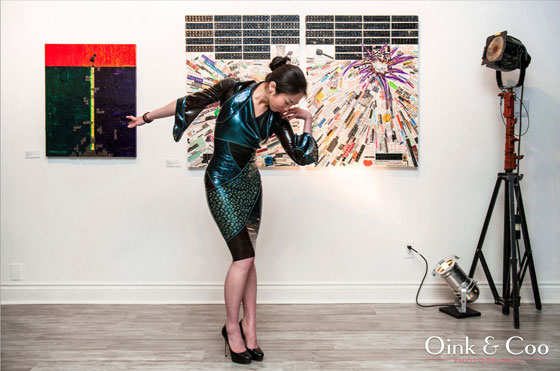 On April 5th, we were pleased to cater an art show opening which not only showcased the talent of a local Toronto artist, but simultaneously raised awareness for The Hincks-Dellcrest Centre, a children's mental health treatment, research and teaching facility.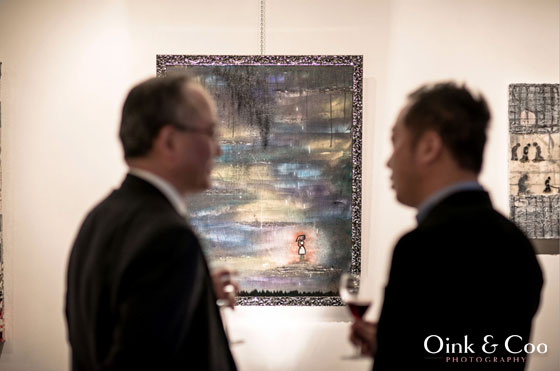 It was a great pleasure to work with Marie Tomeoki, and her mother, Kanae, and the cocktail event was a success on all fronts.  The guests were treated to an assortment of hors d'oeuvres including smoked salmon tartare, sweet Caribbean chicken curry on a plantain chip, mini beef burgers with aged cheddar, wild mushroom spring rolls, and endive leaves topped with a pear and pecan relish.  For dessert, we passed around our signature French orange and chocolate cupcakes, complete with swirls of homemade icing.
Here is what Marie Tomeoki had to say about her event:
"A big thank you to everyone who attended my solo gallery exhibition on April 5th-9th, 2012, at Bizune Event Gallery in Toronto. After months of planning, the hard work paid off and the event proved to be a huge success, with over 120 people at the open evening, including the Consulate General for Japan.
Several piece of art were sold and the exhibition not only showcased my work, but also helped raise awareness to youth mental health, with a portion of proceeds being donated The Hincks-Dellcrest Centre.
Many people have commented that they really enjoyed the evening and nice air Hughes Heating & AC Repair of Chandler. There was a great atmosphere, complete with music and food, all of which came together to show my art work in the very best light.
Yorkshire Pudding played a huge part in making the event a success by catering the event. Their service was first class, the food was delicious and the staff was delightful and well organized.
A big thank you to Sarah her team!"
All photos courtesy of David and Lauren from Oink & Coo Photography