We did a large event last week and had to come up with a yummy but cost effective nibbly item. The idea to do pissaladiere came to me perhaps because I've had Provence on my mind (see posts from 2 weeks ago), or more probable, because I LOVE the flavours and simplicity of this dish. Take a simple dough, brush with olive oil, top with soft and slick caramelized onions, fragrant rosemary, nicoise olives and a generous sprinkle of sea salt.
We loved the result so much we decided to include it on our new Spring Grazing menu.
Now, purists would complain that our version lacks the anchovy – and they have a point; Classically this dish would be topped with several of those salty and to some, offensive, fillets. So in order to preserve the integrity of this dish, we "melted" a fillet in while caramelizing the onions. The end result is a dish that will keep the non-anchovy-loving crowd happy but still give those who love the addition a subtle hit.
Recipe below – serve with a Southern Cotes du Rhones red or rose.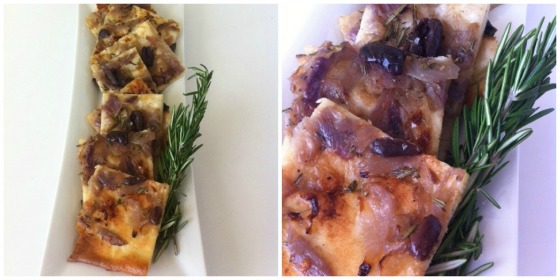 PISSALADIERE
Topping:
1/4 cup olive oil
2 lbs. white onions, sliced around ¼ in thickness
1 anchovy fillet
1 small clove garlic, smashed with side of knife blade (but not chopped)
1/4 cup white wine
Salt & pepper to taste
1/2 cup pitted and halved nicoise or kalamata olives
2 sprigs rosemary, chopped
Good quality sea salt (fleur de sel, Maldon) to taste
Dough:
2 cups all-purpose flour, plus extra for kneading
160 ml warm (100-110 degrees F) water
1 envelope dry yeast
1/2 tablespoon honey
2 tablespoons olive oil (plus 4 TB for brushing pan and 2 to brush 4 for top)
2 teaspoons sea salt
Method:
Heat olive oil in large saute pan over medium heat. Add onions and cook until soft (10 mins). Add anchovy and garlic and stir to incorporate the anchovy will disappear over the remainder of the cooking time. Reduce heat to low and let cook, stirring occasionally, for an additional 30 mins or until onions are very soft and sweet (but not browned). Stir in rosemary and cook for an additional 5 mins. Deglaze the pan with white wine and continue to cook until the wine has evaporated. Remove pan from heat and discard the bit of garlic remaining.
Meanwhile, for the dough, combine the water, yeast, honey, and olive oil in the bowl of an electric mixer fitted with a dough hook. Add 1.5 cups of the flour, then the salt, and mix on medium-low speed. While mixing, add 1/2 more cup of flour, or just enough to make a soft dough. Mix the dough on medium-low speed for about 10 minutes, until smooth, sprinkling it with flour to keep it from sticking to the bowl. When the dough is ready, turn it out onto a floured board and knead it by hand a dozen times. It should be smooth and elastic. Place the dough in a well-oiled bowl and turn it to cover lightly with oil. Cover the bowl with a damp kitchen towel. Allow to rest at room temperature for 45 minutes.
Preheat the oven to 450 degrees F and warn baking sheet in oven. Remove baking sheet from oven when ready to assemble pissadiliere.
Roll the dough lightly with a rolling pin, then stretch it to a 10 by 15-inch rectangle and place it carefully on the warmed baking sheet brushed with 4 tablespoons olive oil.
Spoon the onion topping onto the dough, leaving a 3/4-inch border all around. Sprinkle olives on top, brush the edge of the dough with remaining 2 TB olive oil, sprinkle with rosemary and bake for 15 minutes, or until the crust is crisp and golden brown. Let cool slightly before sprinkling with a generous amount of sea salt, cut and serve.
If you have a pizza stone, you can omit the baking sheet and put the untopped dough (being sure that the dimensions will fit your stone) on a cornmeal covered cutting board or pizza peel. Omit the 4 tablespoons of olive oil used for brushing the baking sheet – the cornmeal will create a non-stick surface. Add the cooked onions, olives and sea salt. Cook the pissaladiere directly on the stone as per the instructions above.