With so many Ontario fruits coming into season this month we thought we would share a few ways in which you can take advantage of the wonderful bounty our farmers have to offer.
We love the combination of flavours in this simple salad: spicy watercress & bitter endive topped with sweet Ontario summer figs, toasted walnuts and blue cheese (we used Fourme d'Ambert). Top with a simple lemon vinaigrette and you have an easy, delicious first course.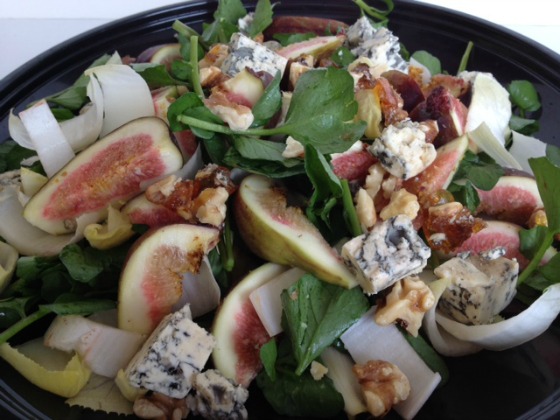 And here is a gorgeous dessert featuring Ontario Black plums and blackberries. Macerate the chopped plums and halved blackeberries overnight with sugar, split vanilla beans and orange peel. The following day, remove the vanilla beans and peel and layer the macerated fruit in a cosmo glass with whipped cream or custard. We topped ours with crushed amaretti cookies for crunch but you could get the same effect with some toasted sliced almonds.

Enjoy!