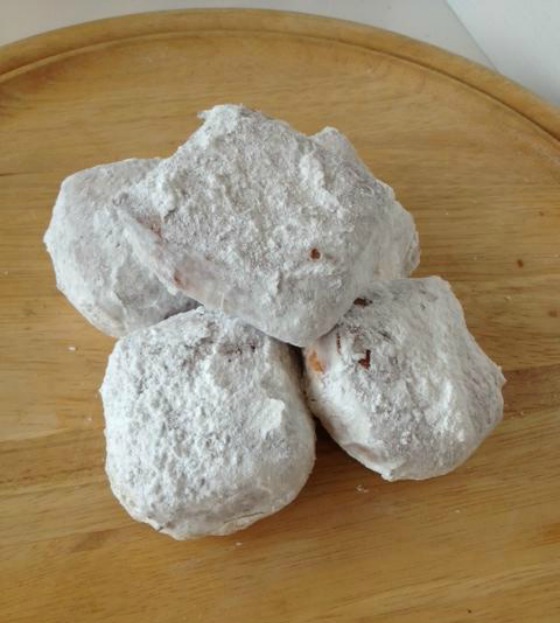 We are doing a Mardi Gras breakfast event next week and had a little beignet tasting this morning.  I can safely say there is truly NOTHING more indulgent than a freshly-fried doughnut dredged in powdered sugar (except maybe the addition of an awesome cup of coffee).
Anyhow, these little wonders are pretty simple to make and we thought we should send off the recipe in time for the weekend – anyone hosting brunch this weekend? Serve with some Eggs Sardou (created in The Big Easy itself) and some Virgin (or not!) Creole Bloody Marys and voila – a New Orleans-inspired brunch – done!
Beignets
220 ml water
1/4 cup sugar
1.5 tsp dry yeast
2 eggs, lightly beaten at room temperature
1 tsp. salt
1/4 cup melted butter
1/2 cup evaporated milk
3.5 cups flour
3 cups icing sugar
Method:
Make the dough at least 1 hour before cooking or even better, the night before so that the work in the morning is a breeze.
If using a mixer, dissolve sugar in lukewarm water in mixer bowl.  Any large bowl will do if you don't have a mixer.  Add yeast and let stand for 10 mins. While yeast mixture is standing, in another bowl mix together eggs, salt, butter and evaporated milk.  Add egg mixture to yeast/water mixture and stir briefly (hook attachment if using mixer, wooden spoon if not) to incorporate.  Add flour and mix on medium-low speed until dough forms. If you are not using a mixer, add flour and mix with spoon to first incorporate and then use hands to knead until dough is smooth and uniform.  Let dough rest 10 mins.
Roll dough out to 1/2 inch thickness and cut into 2″ squares (classically, these would be 1″ but we think that is just too small!).  Place squares of dough on parchment paper-lined baking sheet and wrap in plastic wrap.  Let sit for 1 hour on counter or overnight in fridge (they will rise slightly during this time).
If beignet dough was made the night prior, pull from fridge 30 mins before cooking.
Heat vegetable oil in wok to 325 degrees Fahrenheit; It is best to use a deep-fry thermometer but if you don't own one, oil is 325 when a piece of bread drops in starts to bubble right away and cooks to a golden brown.  Place the icing sugar in a wide bowl. Carefully slip squares into the hot oil using a slotted spoon. Cook beignets in batches of 5 so that the oil temperature stays constant. One the underside is a golden brown (they will be floating), flip using a fork or tongs. Once the 2nd side is browned, remove from oil with slotted spoon and let cool slightly on paper towel lined tray. Once beignets have cooled slightly (they need to be warm but not so hot that you can't pick them up with your fingers), dredge the warm beignets in the icing sugar and transfer to a serving platter.
Eat immediately.