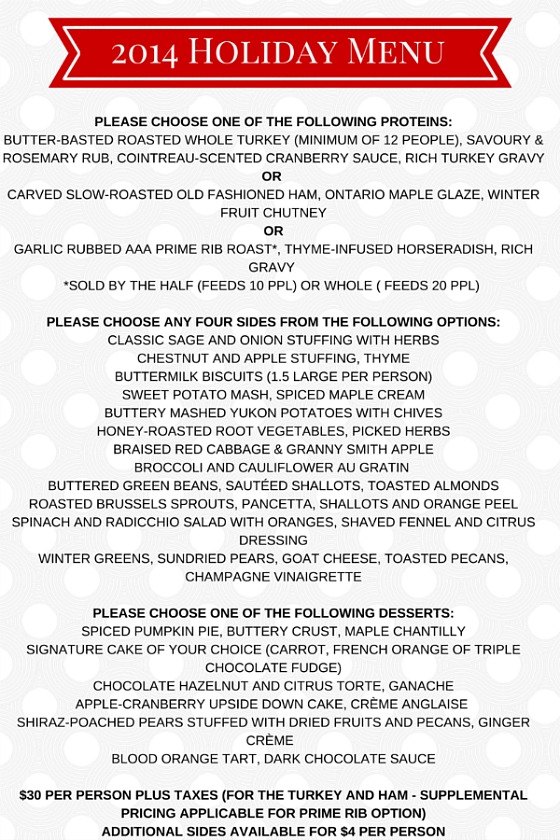 For the past few weeks, our chefs have been hard at work putting together new menus, designed to inspire and assist you with any and all of your holiday entertaining needs. Full of favourite seasonal flavours, and a mix of high-end ingredients and classic comfort foods, there's something for everyone on this years menu.
We are especially excited about the smoked salmon and parsnip rosti topped with cider jelly and sour cream, a seasonal update on this traditional two-bite hors d'oeuvres. Our chefs also love the bacon-wrapped meaty Medjool dates, which come stuffed with creamy blue cheese and drizzled with honey.
For your convenience we have indicated which cocktail items are gluten-free allowing you to choose a menu that will work well for the dietary needs of all of your guests. We can also provide you with a list of the items that can be pre-assembled should you prefer to order your foods to go.
With respect to holiday meals, our updated Christmas dinner menu is full of timeless classics and few modern updates thrown in for good measure. This year we're also offering information on ordering herb-rubbed boneless turkey breasts and legs, a satisfying alternative to a whole bird, which works well if you are expecting a smaller crowd or prefer not to carve or serve an entire turkey. Please don't hesitate to get in touch with our event coordinators (416.233.9863 or [email protected]) should you have any questions or require additional information.
We're excited to work with you this season, and look forward to helping you create a menu guaranteed to make your party a delicious success.