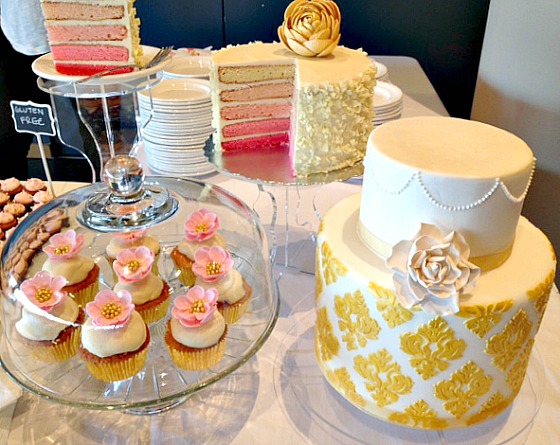 This past weekend, we were down in Niagara-on-the-Lake for the Shaw Shivaree, an epic night of eating, drinking, and dancing in celebration of spring and the new season. We were in charge of a dessert table, and drew inspiration for our colour palette from the current popularity of all things metallic.
Our sweets table included:
Mini lemon meringue cupcakes with bruleed meringue tops
Mini chocolate cupcakes with chocolate icing, fleur de sel, caramel sauce
Mini French orange cupcakes with butter cream cheese icing and mini gold dragees
Regular French orange cupcakes with white buttercream icing, pale pink poppies and gold dragee centres
Pink ombre cake covered in white buttercream with gold disco-dusted magnolia
To add a little something extra special to the table, our chef, Christine, made a few dummy cakes for decoration, covering one with contemporary ruffles and gold bands, and the other in gold damask with a handmade floral topper. Doesn't it all look lovely?