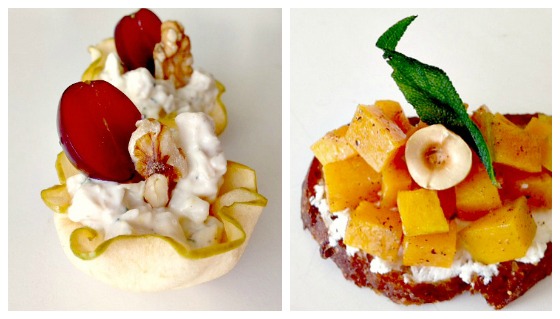 For the past few weeks, our chefs have been hard at work putting together a new winter cocktail menu to assist you with your holiday entertaining needs. Full of bright seasonal flavours, and a mix of high-end ingredients and classic comfort foods, there's something for everyone on this years menu.
We are especially excited about the butternut bruschetta, a cold-weather update on the Italian classic made with whipped chevre, sautéed squash, fried sage and toasted hazelnuts. Our chefs also love the mini waldorf salads they've created: house-made apple chip cups filled with poached chicken, celeriac, walnuts, halved grapes, and lemon mayo.
For your convenience we have indicated which items are gluten-free allowing you to choose a menu that will work well for the dietary needs for all of your guests. We can also provide you with a list of the items that can be pre-assembled should you prefer to order foods to go.
We're excited to work with you this season, and look forward to helping you create a menu guaranteed to make your party a delicious success.